Having experience in multicultural environmental education is a dream of students, which helps them develop skills, knowledge, manner, and attitude.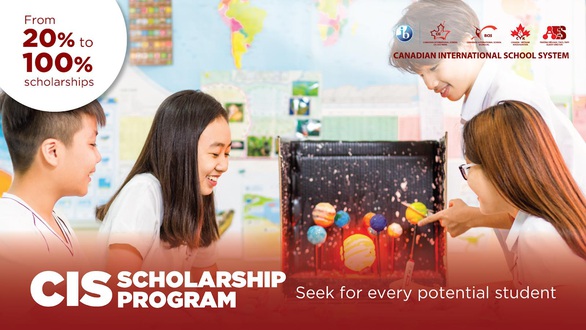 The CIS Scholarship program is for students outside the CISS from grade 4 to grade 11 and expands to pre-grade 1 group.
Especially, the full scholarship can be re-granted annually for every school year if the student gets high achievement in performance.
The applications can be submitted online via email address scholarship@cis.edu.vn or contact the Admission officer through Hotline (028) 54 123 456.
The Scholarship assessment will be hosted virtually.

The applications can be submitted online.

Agenda:
8 am - 9 am: Information - Q&A session.
From 9 am: Scholarship assessment:
1st Round: Reading & writing (for grade 4 to grade 11) or Online Interview with students and parents (for pre-grade 1 - with English or Vietnamese used);

2nd Round: Brief video activity to be done at home and submitted to the email scholarship@cis.edu.vn

The admission test will take place on Google Meet.
Each individual will be observed and evaluated by international teachers and councils to find out their potential on the journey to conquer the knowledge and develop a personality
The CIS Scholarship Program provides 20% - 100% of tuition fees.
Criteria: The applicants who achieve the highest testing results (after 3 rounds) and actively take part in community activities.